When to bitch about work and when to actually raise a problem
Only on occasion is an annoyance at work worth making a fuss. Let's explore when.
Sustain issue #97 (Get Sustain in your inbox next Thursday)
I was sick Tuesday (there seems to be a thing going around) and actually took a full sick day off for the first time in a while. When you're not well, rest don't power through. Nobody needs you to be a work hero.
---
Strategically not caring
I love to bitch about things at work. Anybody who says that it breeds cynicism (see: it's ok to be a little cynical) needs to experience the power of venting.
When you have a trusted peer you can share openly with it makes you feel less isolated and improves your mental health so you don't have to keep things bottled up.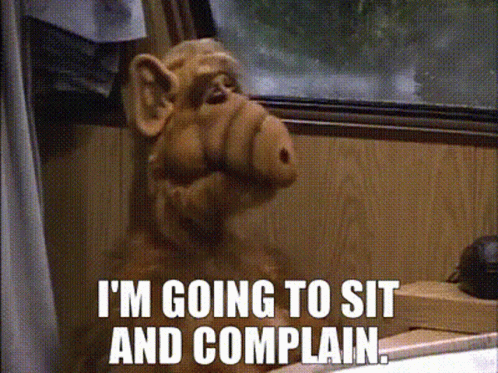 Keep the bitching isolated and nobody gets hurt.
But today isn't about the power of bitching about work. Though I could go on for a while about that.
Today is about knowing when something should stay in the harmless bitching chamber and when you should get others involved to solve an issue.
Some might call this picking your battles. That's a tired phrase so I'm going to refer to this as strategically not caring.
So how do you know when you need to slack your boss, "Hey, so you're going to love this…" and when to innocently send the "This is fine" GIF to your work bestie and forget about it by tomorrow?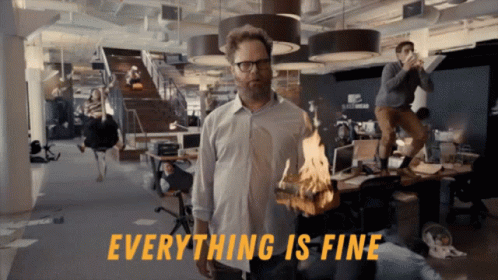 Choosing what's fuss-worthy
Let's break down the situations it's worth making a fuss over. Otherwise, it's best to drop the rope and strategically not care.
⏰ When it costs you time. Could the emerging issue delay your project? Could it force you to work outside your normal hours? Does the project decision-maker change their mind every five minutes about the direction to head? These are fuss-worthy.
🏎️ When it costs you focus. Does it make you veer away from top priorities? Is the emerging issue causing scope creep? Is there a new priority forcing its way onto your plate? Does it jeopardize the success of the high-priority item you're already working on? These are fuss-worthy.
🔊 When it disrupts how you work. Are you being asked to work in a location that isn't productive for you? Are you not able to easily do deep work? Are there too many meetings that could easily be an email? These are fuss-worthy.
All these situations are in service of protecting the magic four rules for redefining your relationship with work. If it prevents you from doing great work, not too much, socializing it, or logging off you have a problem worth surfacing, my friend.
Otherwise, don't waste the heartache on something that doesn't really matter.
---
Links to slack your work bestie
The return to the office could be the real reason for the slump in productivity. Here's the data to prove it (Fortune)
The work-from-anywhere war is beginning (Wired)
After the largest 4-day workweek trial in the UK, 91% of companies stick with it. Citing more productive employees in less time (Washington Post)
Related: Men did a lot more childcare while trialing a four-day work week (CNN)
---
Ready to downsize your relationship with work and quit burnout?
Hi, I'm Grant Gurewitz. I'm on a mission to eliminate burnout at work. I've been in tech for 10 years (ex-Zillow, current: Qualtrics) and suffered deep burnout and came back from it even though I never found a playbook for doing so. So, I'm writing it myself.
🗄️ See the past issues of Sustain