Buddy The Elf's approach to preventing burnout
Being thankful for your job doesn't mean you have to work all the time
Sustain issue #34 (Get Sustain in your inbox next Thursday)
Even as the third year of the pandemic approaches, there's plenty still to be thankful for — health, people, hobbies, and yes, a job.
But today I wanted to paint a distinction between being thankful for your job and being thankful for your work — and more specifically your relationship with work.
Your job, and your ability to do it, is a wonderful thing to be thankful for. Providing a life for your family, shelter, and food on the table are all things to be thankful for.
But allow us, here today, to separate the notion that being thankful for your job means that you have to work ALL. THE. DAMN. TIME.
It's like the scene in Elf, where Buddy learns he can't come remotely close to hitting the elf toy quota. Turns out humans, even humans dressed as elves like Buddy, simply cannot churn out masses of Etch-a-Sketches day after day.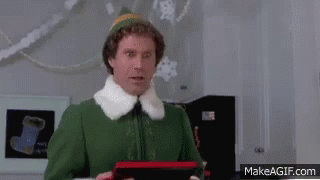 But, for some reason, we still log into work to try and do just that by saying yes to new low-impact tasks and attending unimportant meetings.
So while you have a couple of days hopefully fully removed from work to reflect, I'll pose this question: Are you thankful for the role work plays in your life? Are you thankful for how much time you spend with it?
If you're not thankful for the role work plays in your life I'd encourage you to think during downtime here at the end of the year about how you can reset both with yourself and your manager.
So go ahead and make the equivalent of 95 Etch-a-Sketches, like Buddy, in your work without worry that you're 915 off the pace. You'll know that you worked on 95 high-impact Etch-a-Sketches. Those are the ones that get remembered, actually move the needle on the business objectives, and are the ones that will help you get promoted.
And you'll have gotten more than a full 40 minutes of sleep, eaten healthier than maple syrup spaghetti, and had time for things that bring you joy like artfully turning a wooden TV unit into a rocking horse.
You can be thankful for your job with no expectation that you must dedicate every moment of your life to it.
Happy Holidays and thanks for indulging me in talking about my favorite holiday movie!
At a sustainable pace,
-Grant
---
Ready to downsize your relationship with work and quit burnout?
Hi, I'm Grant Gurewitz. I'm on a mission to end burnout at work. I've been in tech for 10 years (ex-Zillow, current: Qualtrics) who suffered deep burnout and came back from it with no help of the hacky advice out there.
Get my top tools and courage to quit burnout weekly without leaving your corporate job 😌
✉️  Sustain is my signature weekly email that readers describe as an 'epic message'.  Get the next one delivered straight to your inbox >
✉️ How I Quit Burnout is my premium newsletter containing all my tested and data-backed strategies.  Get the next one delivered straight to your inbox >
🗄️ See the past issues of Sustain and How I Quit Burnout
📣 Have ideas, want to contribute, or book me? Let's chat